An Exciting Outcross Bull for Ricco, Romeo, and Robert E. Lee Heifers.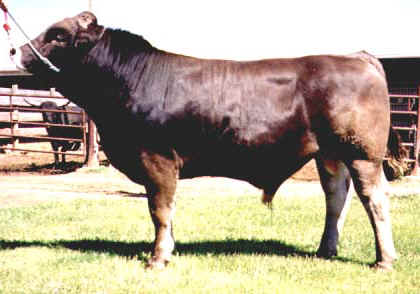 Leonardo is an Embryo Transfer calf. He lost his surogate mother early in life and was hand bottle-fed for several months until another cow lost her calf and he was able to be adopted by her. After weaning he was fed shortly at a farm and then with 10 months of age he entered the quaranteen at Independent Breeders in Airdrie to be collected. (See photo at left). At 12 months we had exportable semen from him.
Despite his rough start to life, Leonardo performed extremely well. This is no surprise, given his pedigree. He had a birthweight of 87lbs. weaning weight of 705 lbs and a yearling weight of 1205 lbs.
It is very hard to produce an outcross animal in our breed, but Leonardo is one. Without having to sacrifice the principles of linebreeding, it is possible to keep 2 and 3 generations free of the influence of Arthur 4Y and Vreneli. This means that Leonardo could be used on heifers that are grand daughters of Arthur 4Y thus producing a linebreeding to Arthur 4Y.
Leonardo's sire, Arthur 4Y is world renowned for producing both excellent female and male offspring. The same can be said of Leonardo's dam side MPB 5F. Here we have the legendary combination Vreneli x Bouncer 3G which can be viewed as the fundamental beef combination in the breed. On the dam side we also see the import animals Lidia, Trina, and Aron. (See pedigree). With Leonardo, I attempted to combine the most powerful genetics of the past 50 years into his pedigree as often as possible.
For breeders that are not familiar with extended pedigrees, it is not possible to know that in the 4 generation pedigree below that Norman (Sire of 1T) is also the Grand sire of Bouncer 3G. Also by 17P you find Bouncer 3G as her paternal grandfather. On 17P's maternal side you find the bull Argus and the cow Ursel. As you can see this bull is not the product of random combinations, as is often the case with others, but the deliberate, carefully selected, combination of the most powerful animals, both male and female, of the past 50 years.
Since it is not possible for all breeders to see all our animals while they are alive, we have produced a bit of an album to show this. Click on the small photos in the pedigree below to see larger photos of the animals in Leonardo's pedigree.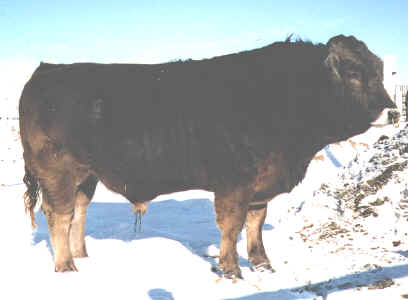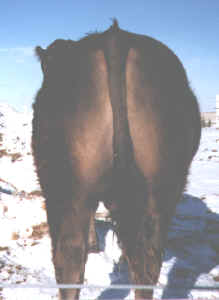 Leonardo at 20 months of age

Performance:

Birth Date: 16-May-1999
Birth Weight 87 lb 39.5kg
205 Day Weight 735 lb 334 kg
365 Day Weight 1205 lb 547 kg