The First Canadian Import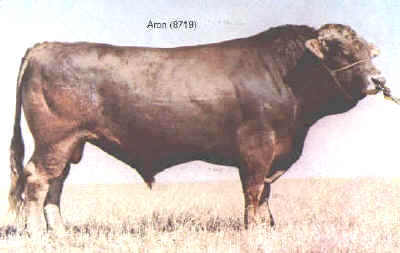 I would like to give you some history about Aron because most people do not know how it all came about. My Father, Hans Ulrich Sr., was the breeder of the bull Aron. My father was a cattle dealer in Switzerland for many years, because of this, he was on the road travelling so he saw many animals. He was not only a cattle dealer but also a cattle breeder. He had what a cattle breeder really needs, the sense to find cattle that are able to produce. He did not have to look first at the papers, but he was able to see an animals potential according to its shape and characteristics. So in 1966 he saw a cow that he thought was an excellent high producing cow but because she was at a place belonging to a widow, the cow hardly had enough to eat which prevented her from producing to her full potential. He bought this cow, her name was Enziana, and brought her home. I still remember the day he came home after he found Enziana. He told me that he had found the cow that he felt would become one of the best cows in Switzerland if she was fed properly. She would not only be an extremely high producing cow but she would also a good looking cow. That meant that she not only represented the dairy type but also showed the characteristics of a typical Braunvieh cow - visible beef and an excellent frame, feet and legs. She was already eight and a half years old when my father bought her. I can not recall that she was ever sick or limping. This is something that one must put emphasis on. A high producing cow needs a superb conformation and excellent feet and legs. If she feels pain she can not produce enough. In Switzerland were one depends on the sale of milk to make a living, one cannot expect sick cattle to produce well. Like I said at the beginning, my father did not look at the papers of Enziana, otherwise he would have seen that the cow was not even registered in the herd book of Switzerland. She had registration papers but she was not included in the herd book at that time. When we looked at her papers when she arrived at home, we found out that her background was absolutely unknown. There are cattle in her pedigree that were never really promoted but still produced this excellent cow. At the time we used a herd bull by the name of Astor (Hochdorf), a bull which came out of a very well known sire line and from an excellent mother. Astor was Aron's father. Astor's bloodline goes over the bull Athlet (Gams) and Athlet's mother Resethli (Gams). This is a well known bloodline. Astor comes from the cow Irona (Hochdorf), a high producing, very well built, typically dual purpose cow. Astor was a twin, and both brothers were accepted into the Swiss herdbook and at the first show that they attended they placed first and second. It was hard to tell them apart since they were one-egg twins. Both bulls were used in Switzerland and turned out a little negative in milk production and so many breeders shied away from this bloodline. Right now in Switzerland, the bulls everyone is looking to have in their bloodlines is the bull, Vero (Kloster Fahr). Vero is the only bull in Switzerland which goes back to this same bloodline. We can see that it is possible to produce, through the right combination, out of a negative bull, a very well known and proven positive family, like we have in Aron. This was the back ground of Aron in Switzerland.
ARON IN CANADA
Most people are interested to know why Aron came over into the New Country. At that time there was a big boom in the Simmental business and this was the second year when Canadian breeders were able to import new Simmental bulls. The first year it was only Parisien. My brother, Hans Ulrich Jr., was involved with raising Simmental and he came over to Switzerland from Canada with the founder of the Simmental Association, Travers Smith from Cardston, Alberta, Canada. They came to our house in Switzerland, walked into the barn and saw at the far end of the barn, the cow Enziana which had just calved a few days before, she brought twin calves, and she produced close to 100 lbs of milk per day. They were so impressed with the conformation of the cow, her production and her offspring that they decided to apply for a change in the import permit from a Simmental to a Braunvieh bull. They received the OK from the Government of Canada, so they imported Aron as the first Braunvieh bull after more then 38 years. Aron had the advantage to be a foundation sire in the breed, in the first few years he had no competition and he was used as a complete outcross bull, mainly in American Brown Swiss cattle and in smaller numbers of British Breeds.
OFFSPRING PERFORMANCE
His female offspring averaged a 205 days weight of 667 lb while his male offspring averaged 711 lb. This works out to an average daily gain of 3.33 lb for females and 3.55 lb for the males. When 8 of his male offspring participated in a 140 day test at a feedlot, they gained an average of 3.49 lb per day. They also tested 17 head of crossbred Aron daughters out of Angus and Hereford cows, raised under poor range conditions. They had an average 200 day weight of 410 lb and as yearlings 696 lb. All these heifers were bred artificially and settled in the first 22 days of their breeding period at 12 to 13 months of age. Here we can see that Aron proved himself as the right kind of bull to use to efficiently produce beef under our harsh Canadian range conditions.
PHYSICAL APPEARANCE
Aron was extremely tall for a Braunvieh, 162 cm tall. He was longer then most other bulls, yet he was very smooth. He had excellent feet and legs, just like his mother. If one looks at the side of Aron (see photo above), one could say that it would be nice if he had more muscle in the hind quarters. Since he comes from an extremely high milk producing cow, it is not surprising that he shows some dairy characteristics. It was and still is, after almost 30 years, not hard to pick out at any show or on any farm yard his offspring. He transmitted his characteristics to his offspring so strongly that it was easy to see. It is now almost 30 years since he came to Canada, yet he is still used and available through many A.I. stations. He has proven himself as a true Foundation Sire, a bull with which one is able to start a breeding program that carries the desired dominant characteristics: fertility, longevity, high productivity, beef characteristics, and excellent feet and legs. Today we have quite a few 15, 16, 17 year old cows which are still in production, not only here in Canada but also in Mexico. I am sure Aron will show up even in the future in many pedigrees as more and more people continue to use Aron blood.
OUTCROSS POTENTIAL
It is a problem in the Braunvieh breed to find a real outcross bull which is not related to what is now wide spread. I am sure it is hard to find or even impossible to find a better outcross bull than Aron, today in our breed. That is why I used him as an outcross in my breeding program. If anyone is interested to see what you can do if you use him selectively you will see what he is able to produce in the pedigree of Maranatha Arthur 4Y. Arthur 4Y goes back to the bull Aron (in the sixth generation) on his mother's side. Although Aron is six generations back, you can still see his characteristics in combination with other old proven bloodlines, some which were not widely used, like Ueli. Yes, Aron is really and truly a dual purpose Braunvieh bull which has proven that the characteristics from the breed are usable in many different countries as an outcross, not only in the breed itself but also as a foundation sire in an upgrading program. Aron and his offspring are used in Canada, USA, Mexico, Australia, Brazil, South Africa and other countries. We as Braunvieh Breeders on this continent are fortunate that Aron came over first and started the Braunvieh breed over here. He is a bull which produces that which we promote the breed for: higher milk production, better beef production, which eventually leads to cheaper meat production even under harsh conditions. Because of his excellent pigmentation and frame structure and high milk production background over bloodlines which are otherwise extinct worldwide he has given us a unique opportunity to improve the breed. We need to be careful to keep bloodlines like that alive or activate new ones which promise to do the same as the bloodline of Aron.