Maranatha Arthur 4Y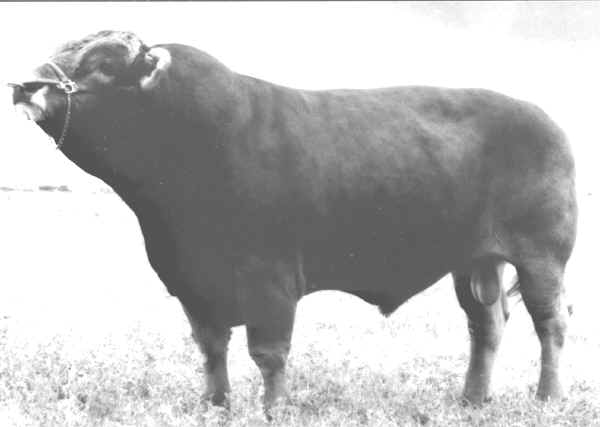 As I was still with Starline Braunvieh, we bought the cow Maranatha Miss Alpha 1T ET back from Dr. Anderson. We had earlier sold him an embryo. Now she was grown and had a bull calf from Ueli on her, Arthur 4Y.
This bull calf was of special importance to me as his father was the import bull Ueli. Ueli's sire was the Swiss bull Ural Meiringen SW 6390 (not to be confused with the Swiss bull Ural Lungern 7005). Ural goes back to the bulls Felix 2913 and Rolf 9547 Luzern. These bulls were the nicest bulls in the breed in Switzerland at the time.
On the dam side of 4Y we have the import bull Normann who is also the grand sire of Bouncer 3G. Bouncer is represented in the line of FLE 17P. In this way, Arthur 4Y is probably the bull that carries the bloodline of Dufur 11684 more than any other.
Even as a calf, 4Y displayed the characteristics of a high performance herd sire. We decided not to sell him but rather to collect semen from him. When I left Starline Braunvieh, in 1990, I bought this bull and moved him with most of my cows to Mexico. In Mexico, he proved himself as one of the most influential bulls of the last decade.
Arthur combines high performance with good conformation. He had a 205 day weight of 719lb and a 365 day weight of 1218 lb. These are values that even after 10 years are rarely equalled. The most important aspect is that he passes these characteristics to his offsprings.
I want to combine his positive characteristics with those of Vreneli and Lidia in that I am using a son of Arthur, Leonardo AOZ 1J, in my breeding program.