Ulrich breeding program in Canada the 1970s
In 1969 both George and Aron Egg moved to Canada. Aron became the founder of the North American Braunvieh breed. George became one of the most prominent and outspoken supporters of this newly introduced breed. Hans Ulrich Sr. was very happy and proud of the fact that he could be part of the inception of the Braunvieh breed in Canada. He remained active in the selection of Braunvieh and Simmental cattle for export throughout the 1970s and 1980s. His breeding program consisted of producing high performance animals. In his selection of export animals he did not use EPDs but rather his instincts. The Braunvieh breed certainly owes a debt of gratitude to this little man with a big heart and a long vision.
Here are some of the earliest photos of Aron offspring ever taken.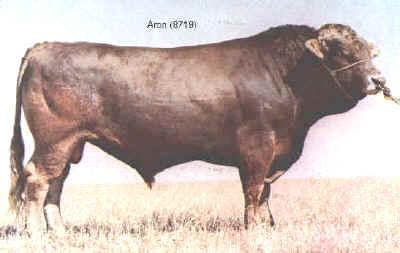 This is Aron Egg, the first Braunvieh bull imported to North America in many years. He was raised by Hans Ulrich Sr. and imported to Canada by Simmental Breeders Limited, where Hans Ulrich Jr. was a part owner.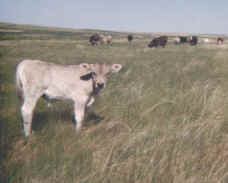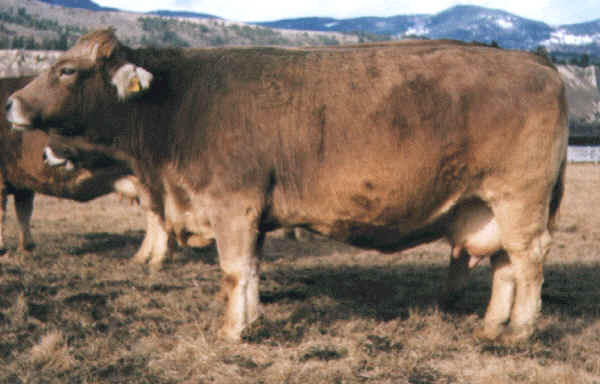 This is the first offspring from the bull Aron born in North America. His dam was a Brown Swiss cow. He was born in 1970 by Billy Birch in Alberta. He was the first beef Braunvieh bull that was performance tested. His weight per day of age at weaning was 3.4lbs (1.53kg) at 8 months of age. He was sold for $2700 Canadian dollars. On the right is a photo of FLE 644U in 2001, also a daughter of Aron. As you can see we are still using this bloodline today.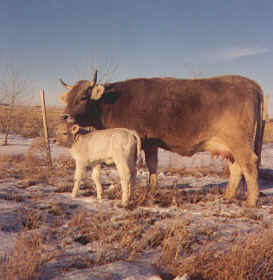 This is Fink, the first female imported to Canada with one of her Aron calves. In 1981 she became one of the first animals that we produced embryos from.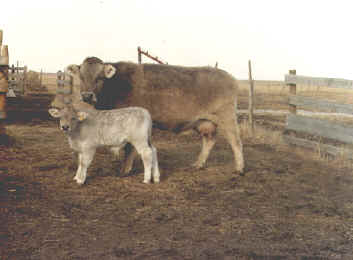 This is Freudi (Fink x Aron). This cow has unsurpassed fertility, her third calf (photo) was born when she just turned 3. Her first calf was born when she was 13 months old, therefore she was pregnant at 4 months of age!
The rest of the breeding program can be seen on the other pages of this website.