Early Conformation Improvements
Hans Ulrich wanted a cow that would not only be a top producer of milk but one that would also look good and have some beef characteristics. These few photos show a development in his breeding program, that was later imitated by his son, George, in the conformation of the cows he bought or bred.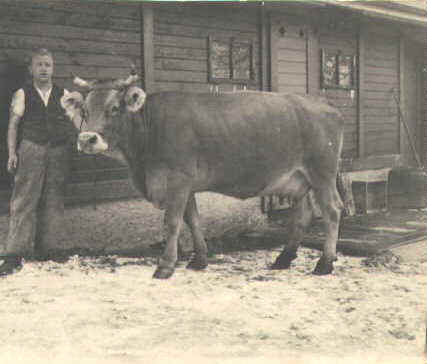 1919
One of Hans Ulrich's earliest Cows. This was the beginning of a career based on selection for conformation.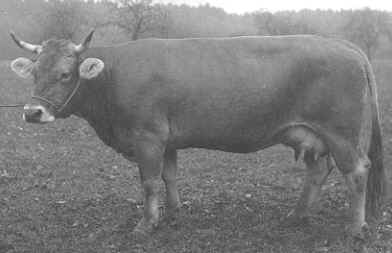 1932
The cow Stina. Already an improvement in conformation is evident. This cow is deeper than the earlier one.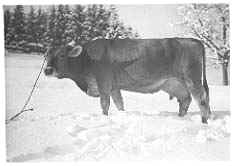 1936
This is the cow Kroni Unterland. This cow was so far advanced in "design" that she just doesn't fit the mold of conformance improvement. She is included here to show that if there is an exceptional "one in a million" animal that appears on the scene AND if she is proven to pass on these characteristics to her offspring, she must be used in the breed. Hans used Kroni, his favorite cow of all time to improve his herd for many years. Ricco TWO 7C is another one of these "one in a million" types of animals that is currently available in the breed.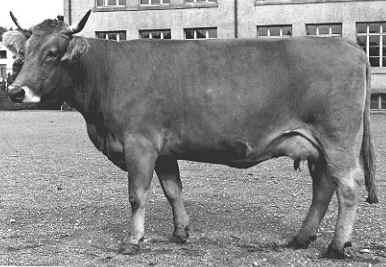 1940
Further improvements still. This cow is deeper, squarer and has a nicer udder.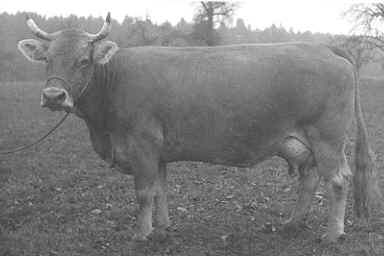 1945
This is the cow Holda. Further improvements still. Notice the depth, udder and height of this cow.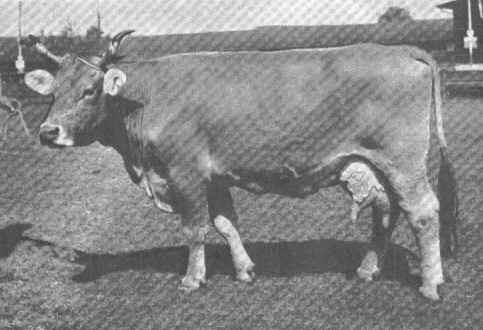 1947
This is the cow Perle Fallanden. The conformation is enhanced with performance in Milk without the loss of beef potential.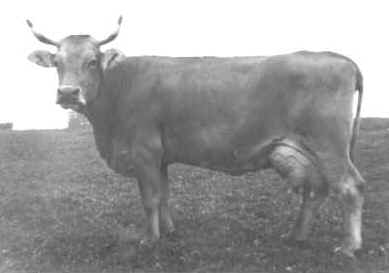 1950
This is the cow Dorli Stafa. This photo was taken at the end of the lactation where she became the first Braunvieh cow to produce 10,000kg of milk in 300 days. Extreme performance with beautiful conformation. Remember this was 50 years ago.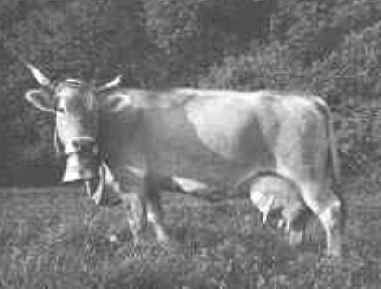 1964
This is Vreneli Egg. She is the daughter of Dorli (above) She was the grand champion at the National Exhibition in Laussane in 1964. Some said she should be the first cow to get 100 points. This was George's favorite cow.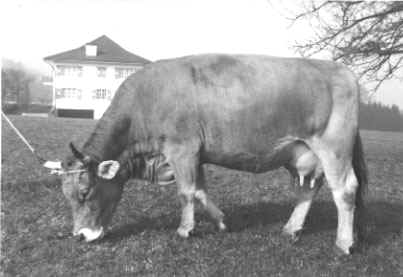 1965
This is Ardena Schamserberg. She was considered the nicest cow in Switzerland at this time. She won every show she was entered in. Truly Hans' and George's quest for conformation was successful.