Ulrich Breeding 1930 to 1950
During these years, Hans Ulrich started his own breeding program and bought a small farm in Switzerland in 1929. He found the most famous cow of all time in the Braunvieh breed and bought her. Her name is Kroni Unterland. She continues to influence the breed into the 21st century.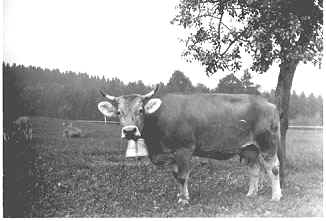 Kroni Unterland in 1936 at age 6 years. This is shortly after Hans bought her.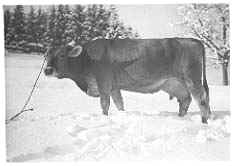 She won the Swiss National show in Zurich in 1939. She was the first cow to produce 10,000kg (22,000lb) in one lactation (Photo above). She did this in 1939. Shortly after this a feed producing company asked permission to name one of its high performance cattle supplements after her. This feed is still available today under the name "Kroni".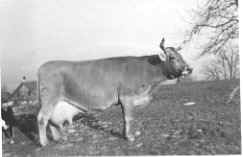 Kroni Unterland in 1948 at the age of 18 years shortly after delivering her last calf. She was still a high milk producer at this time.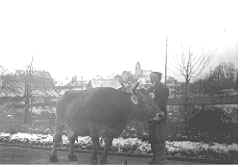 This is the last photo taken of Kroni Unterland in 1951 at age 21. She still had over 900kg live weight and 450kg dead weight. This was the saddest day of Hans Ulrich's breeding career. Her ovaries were preserved at the Swiss Technical University (ETH) for future research, her head was mounted and donated to the ETH.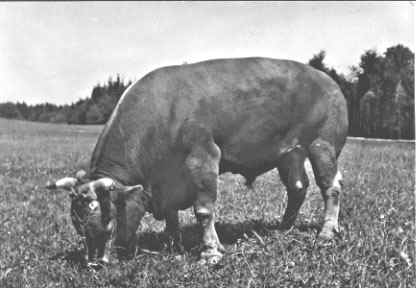 This is the bull Gold (1733) Oetwil am See, one of the famous offspring from this cow. He was born in the 1940s and this photo is from 1948. He was used on the Maggi Kempthal farm where he also produced outstanding offsprings like the following. He was the first Braunvieh bull that was performance tested for milk production on his daughters and rewarded with the L symbol on his pedigree.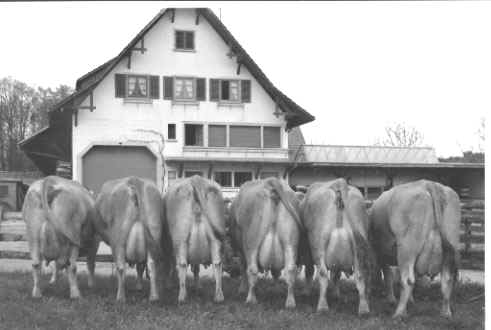 Gold daughters at one of the shows in the early 1950s. Of course at this time we did not use artificial insemination in Switzerland.