Ulrich Breeding program in the 1960s
The 1960s brought renewed emphasis on dual purpose animals. Hans was busy working as a cattle dealer and George was building up his herd. Hans was busy selecting Braunvieh and Simmental cattle for export for the Swiss Cattle Commission (KSV). The cow he liked the most was Ardena Schamserberg who was considered the nicest heifer in Switzerland at that time. Interestingly enough Hans owned her grand dam Silona Oberhofen.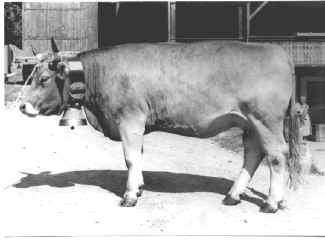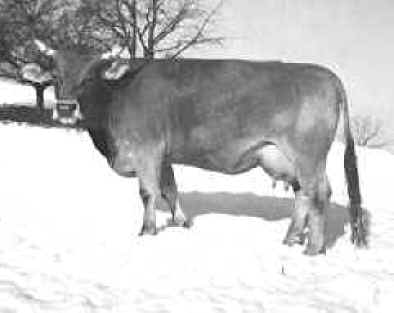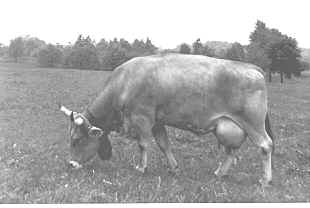 This is the cow Ardena Schamserberg, in 1963 (left) when Hans bought her, in 1965 (center), and in 1970 (right). She was considered the best cow in Switzerland at this time.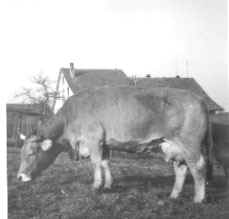 This is the cow Vereina Meilen in 1965. This cow received a mark of 10/10 in her conformation and was bred by Hans. Even today she typifies the ideal type of cow that we are trying to breed towards.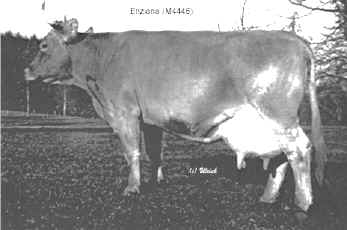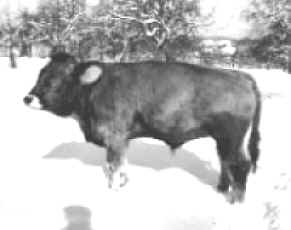 This is the cow Enziana Altstaetten at the end of the 1960s. Hans bought this cow at 9 years of age and she became the mother of Aron Egg that was the first Braunvieh bull exported to North America in over 35 years. Next to Enziana is the Bull Astor as a yearling in the mid 1960s. He is the Sire of Aron Egg.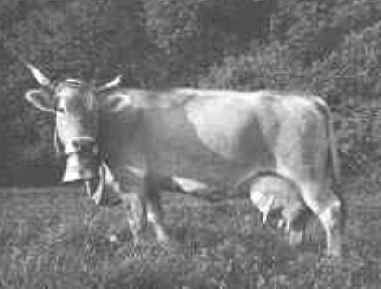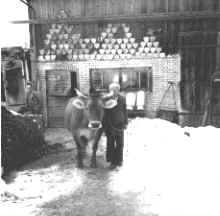 This is Vreneli Egg (1964), a daughter of Dorli Stafa (described in the 1950s part). She was bred by Hans Ulrich and bought back by George. She won the Swiss National Show in 1964 at the Expo in Lausanne. She had high milk performance (over 9000kg with over 4% butterfat). The photo on the right is Hans Ulrich with Vreneli. (Notice all the first prize plaques won by Hans on the barn wall).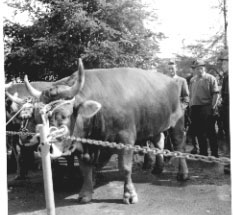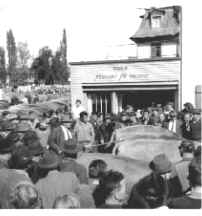 This is a very rare photograph of Diamant Arth taken in 1965. This bull was the first Braunvieh bull to be awarded 97 points. He is one of the foundation sires used in Georges breeding program. He was never owned by the Ulrichs, only used. He won every show he ever entered. Many people thought he would not be good for milk production due to the size of his horns but this was not the case. He was positive in the milk production on his daughters. The photo on the right is the progeny of sire for Diamant Arth in Lachen 1965. Diamant is the grand sire of our very famous Willabar Bouncer 3G.