So what does a real dual-purpose animal look like?
In Canada, we started in 1969 with the best dual purpose animals available to us and have continued to select for dual purpose for over 30 years. The data presented here shows what has happened on our quest to produce the world's best dual-purpose Braunvieh animals. You can study the data yourself or you can read the synopsys below.
So how does this stack up against what is available in Switzerland?
As you can see by the performance information presented on this site on Switzerland and Canada, you can draw your own conclusions. We will present some photos to show what we mean by a dual purpose animal.
It is difficult to draw comparisons on the basis of the most recent Swiss performance test data because the age of the animal is not known and neither the feed composition.
From the data it appears that the average Canadian Ricco offspring is 22% better in Weight Per Day of Age and Ricco and Romeo are 40% above the current Swiss norms! This is achieved even when comparing data on Romeo of normal feeding versus the Swiss bulls that were on a feed test to prepare them for slaughter. Taking this into account would make Ricco and Romeo easily 50% better.
The other item of note is that the highest yield (59%) of the Swiss bulls is lower than the lowest yield projections of ANY Canadian bulls at the Cattleland test!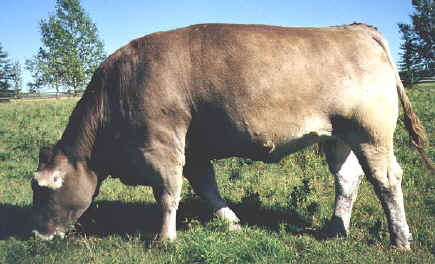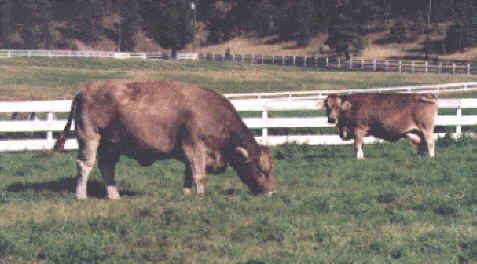 Top Original Braunvieh Canadian Cows - Dual Purpose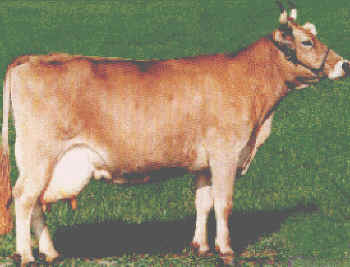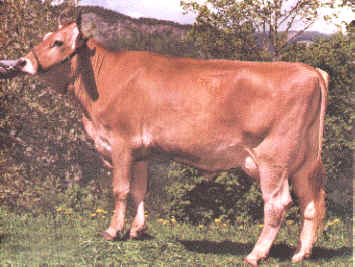 Top Original Braunvieh Swiss Cows - Dual Purpose?
In the photos above, we have shown the animals that best represent the dual purpose nature of the Original Braunvieh breed from our perspective (Canada) and from the Swiss perspective. All these animals have been designated as being in the very top of the breed. You can make your own decisions now.